Princess Kaiulani spent a happy childhood at her family's home in Waikiki. A beautiful estate surrounded by lush gardens and walkways, it was called Ainahau, meaning "cool place" in the Hawaiian language. It was an idyllic existence, with the house always full of interesting people and her parents were well liked by Hawaiians and nonHawaiians. But, the tragedies that were to form Kaiulani's character began to strike at an early age. Her mother, Princess Likelike, became ill in December 1886 and her formerly outgoing nature became quiet and withdrawn. On the afternoon of February second, 1887, Likelike died at the age of thirty-seven, leaving behind a distraught husband and an inconsolable twelve-year old daughter.

The family home at Ainahau, after a period of mourning, continued to be one of the most popular settings for Honolulu's elite. Perhaps the most interesting visitor of all, from the young princess's viewpoint, was Robert Louis Stevenson [see Friends > Family Friends > Kalua Pig recipe for a picture of Stevenson at a luau with King Kalakaua] who sailed into Honolulu Harbor in January 1889. He became friends with King Kalakaua who introduced him to Kaiulani and her father. Stevenson was thoroughly captivated by the beautiful young Scots-Hawaiian princess. The fascination was mutual and they spent long hours conversing together under the large banyan tree that stood in front of the house at Ainahau.

When she became thirteen, it was felt the Kaiulani should have an education befitting a future occupant of the Hawaiian throne. She became the first member of the Hawaiian royalty to receive the kind of training traditionally given to the children of European monarchs in preparation for ascending to the throne.

Princess Kaiulani sailed to England, via San Francisco, in 1889 and it was to be eight long years before the lovely young woman returned to her native islands. During her stay in Europe, she traveled widely and was taught French, German, literature and other subjects, including the social graces expected of one in her high position.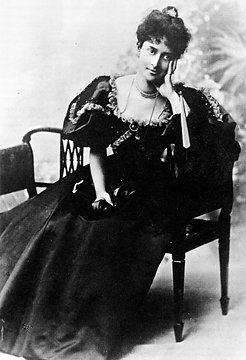 With each passing year her beauty grew and matured and she soon became a very popular young woman, pursued by eligible bachelors from the nobility and upper stratas of European society. Though she was a high spirited and vivacious girl, she never took any of her suitors seriously, concentrating more on preparation for the destiny that awaited her at home.

But the news from home became more puzzling and ominous with each passing day, beginning with a letter from her uncle King Kalakaua who warned enigmatically that she be on guard against enemies. This was to be the last letter from the King to Kaiulani. He died in San Francisco on January 20, 1891 while consulting with physicians over his deteriorating health.

The King's sister, Liliuokalani, next in line for the throne, became the reigning monarch and Kaiulani was now the Crown Princess. Liliuokalani's reign was short-lived and she had to deal with treachery at every turn, as prominent businessmen and even members of her own cabinet plotted against her.

In January of 1893, Kaiulani was to hear that the Monarchy had been overthrown and that a Provisional Government had taken power. This bad news had its effect on the vulnerable young princess and her health began to falter under the pressure. She was homesick to begin with and increasingly felt that she belonged back in Hawaii where she could at least take part in events and help her people, who had been taken over by a government that did not represent their aspirations.

Princess Kaiulani journeyed to Washington and sought an audience with President Cleveland to plead the cause of the legitimate Monarchy against the usurpers of the Provisional Government who, at the same time were busily lobbying for annexation by the U.S. government. The gentle and aristocratic bearing of the exotically beautiful princess captivated the American public which in general sympathized with her plight. The President appointed a commissioner to investigate the situation in Hawaii, an action which frustrated the Provisionals for many months.

Having done what she could, Kaiulani returned to Europe to resume her studies. She came home to Hawaii in 1897. Although the Royalist cause was desperate, the fight continued. Hawaiians referred to Kaiulani as "Our Last Hope." Finally, in 1898, Hawaii was annexed to the United States and Kaiulani's right to become Queen of her nation was lost for all time.

Kaiulani went through the motions of living but something seemed to have gone out of her. She still attended the round of luaus and parties and outings that were her lot as a popular princess, but her former vitality had disappeared. Her attitude became increasingly fatalistic and she seemed to have nothing to live for.

More and more she sought to get away from Honolulu with its atmosphere of swaggering American soldiers and the arrogance of the new government. In December, 1898, Kaiulani accepted an invitation to attend a wedding at the Parker Ranch in the cool uplands of the northern part of the Big Island of Hawai'i. She had always loved horseback riding and here she could indulge this pleasure at will. With a defiance that had become part of her character since the downfall of the Monarchy, and against the advice of her friends, Kaiulani went riding once too often in the chilly wind and rain. For some time her health had been fragile and soon she came down with a fever.

She did not improve and was brought back to Honolulu by ship. In her home at Ainahau the doctors diagnosed her condition as rheumatism of the heart complicated by other symptoms. After a lingering illness, Princess Kaiulani died on March sixth, 1899, surrounded by her heartbroken father, friends and relatives. Thus passed, at only twenty-three years, a beautiful fairytale princess, Hawaii's "Last Hope." With her death a romantic era faded into the mist of the past. Hawaii entered the matter-of-fact, coldly realistic 20th century.


---

From Kaiulani: Crown Princess of Hawai'i —

PIKAKE (pee-kah-kee). The Chinese jasmine in Hawaii, its name a corruption of the English word "peacock" — so called because it was the favorite flower of Kaiulani, identified with her peacocks.

---
Excerpt from Princess Ka'iulani: Hope of a Nation, Heart of a People, about her time around Cambridge and Boston:

Grover Cleveland would be inaugurated as president on Saturday, March 4. The day before, Ka'iulani and the Davies headed for Boston to visit the Davies' son, Clive, at his college. A reporter joined them on the train. In the article she wrote subsequently, she discussed her interview With Mr. Davies about Hawai'i, but she also gave a detailed description of Ka'iulani, her manner, and what she wore (a tailor-made dress of blue serge and a fashionable hat). Clearly, Americans were becoming very interested in Ka'iulani — and this was exactly what she hoped for. If Americans could get to know her, Mr. Davies felt they could be persuaded to prevent the injustice threatening the princess and her people.

Clive Davies met them at the station, and they went to the Hotel Brunswick, where Princess Ka'iulani was given the beautiful Venetian suite.

The next day, while Cleveland was inaugurated, the princess enjoyed her first sleigh-ride, in a Russian sleigh, through the snowy streets of Cambridge and Boston.

It was announced in the Boston papers that she would attend four o'clock vespers at Trinity Church that Sunday. In the morning, she was able to go anonymously with the Davies to St. Paul's Church for a time of quiet worship. Not surprisingly, when they arrived at Trinity Church that afternoon, it was crowded with well-wishers and reporters. What a strange thing it is, Ka'iulani thought, when the practice of your faith becomes a public occurrence.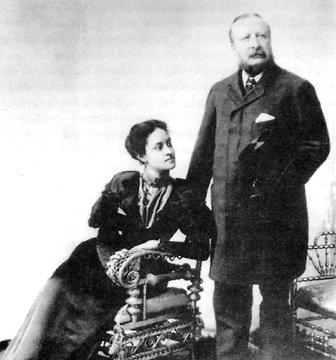 Princess Ka'iulani with Theo Davies in Boston



Shortly after this, the popular women's magazine Housekeeper's Weekly ran a story that discussed Ka'iulani's faith — among other things. It said,
The Princess Ka'iulani is a dignified young woman: tall, slight, straight. She has the soft brown eyes and dark complexion that mark the Hawaiian beauty. Her sight has been affected by overstudy and she wears glasses. She has the sweet, musical voice of her race, and is pronounced very attractive by those who have met her. As to her character, a letter from Mr. Davies, her guardian, to her father, gives some interesting points.
"Ka'iulani," writes Mr. Davies, "is not an idle nor a butterfly girl, and she will want to take life earnestly. Provision should be made for her continuing such studies as she may desire …. Another thing — and most important — is that Ka'iulani is not a mere worldling; she feels that her life is to be one of service to the King of Kings, and that she is to help her own people to live near Him. It is a solemn question for you to ask yourself how you can best help Ka'iulani in this work …. I know it is Ka'iulani's great desire to help the Hawaiian girls into lives of Christianity and purity."
On Monday and Tuesday, Ka'iulani was a purposefully public princess. She sat for a portrait with a well-known photographer and visited the Massachusetts Institute of Technology — Clive's school — and Wellesley College, where it was rumored she had considered attending. (This helped soften the fact that she had an English education; some Americans feared British influence in Hawai'i.)

Most important was the large reception held for her, attended by Hawaiian friends in Boston, politicians, and dignitaries — and, of course, the press. Again, reporters described Ka'iulani's clothes (a gown of ivory silk, strewn with blossoms and trailing vines in turquoise; the skirt trimmed with rows of turquoise satin-ribbon ruching), her hairstyle (a Greek knot), and her demeanor.

One newspaper told how "the Princess begins each sentence with a demure, wholly English air, as if not feeling quite sure that it is decorous for her to express her opinion, and then loses her shyness and speaks enthusiastically until the next question, when her eyes drop and she is the shy school girl again — a manner as fetching as it is un-American." This captivating technique would be put to good use by another young princess, Diana, nearly a century later.

Clive had come with some of his friends from school. These college men were entranced by Ka'iulani, and they surrounded her chair "like an honor guard" for the duration of the reception. A reporter from another paper overheard one of these students tell the princess he had been born in Hawai'i. Ka'iulani turned to him, the paper said, "with a pretty little showing of sovereignty, and claimed, 'Why then, you belong to me!"'

But the next day, while all the papers ran glowing stories about the princess, an article on the front page of the Boston Globe attacked the pension discussed for the dethroned Lili'uokalani. The writer fumed, "Somehow or other, [offering compensation] doesn't compare over and above favorably with the straightforward ways of other days 'When the strong annexed the weak by right of might and disdained to bribe anyone into pocketing the injury in silence."

It seemed there were still those Americans who believed that CC might equals right." This only strengthened Ka'iulani's resolve.

On Wednesday, the princess finally boarded a train for Washington, D.C. There she checked into the Arlington Hotel, where she was given the suite of rooms recently occupied by the famous actress Sarah Bernhardt.

Most seventeen-year-olds who have felt betrayed by a young man at least get to brood in the privacy of their room. But this was a privilege Ka'iulani didn't have.

Her new celebrity had preceded her, and reporters were waiting for her at the hotel. Waiting for her, too, was Prince David (as the American papers called Kawananakoa), with a lei of roses as a peace offering. The Davies chatted with him amicably. Ka'iulani accepted the lei and the traditional kiss that accompanied it, but she could not forget what Koa had said to the newspapers after their last meeting. She made a few painfully polite remarks to him — then pointedly asked to be taken to her rooms. Her feelings about Koa were so strong that she couldn't even bear to talk to him.

As Ka'iulani was shown through the lobby to her suite, eager reporters showered her with questions. Frances Folsom Cleveland, the president's young wife, was the other "Woman of the Hour." Was Princess Ka'iulani planning to call on her?

Ka'iulani smiled but pointed out that she was in the United States as a private citizen. As such, she had not received an invitation to the White House.

Knowing the story that would be generated if the two important young women met, one reporter suggested, "But you can call on her any time, in an informal way, and she is almost sure to be pleased to see you."

"I could not do that," Ka'iulani answered, politely but firmly. "No one would call on a private lady with whom they were not acquainted, as you say, informally. And I do not think that the public station of President Cleveland makes any difference."

Theo Davies also gave interviews that afternoon. He made a pointed observation that made the next day's papers: "Over at Wormley's Hotel, where the provisional government commissioners are stopping, I noticed this morning, gentlemen, that the Hawaiian flag is flown. Yet I am told that the American flag flies over the Honolulu government buildings. A curious state of affairs!"

The princess herself was of such great interest that even the fact that she came down to dinner at the hotel restaurant was newsworthy. The papers reported what she wore, how she styled her hair (with "fluffy bangs"), how "all heads turned," and how graceful and "democratic" she was.

Everyone in Washington seemed to have taken notice of her visit. The question was, would President Cleveland?

The next day, a mere five days after he took office, Grover Cleveland made a momentous decision. The papers brought the happy news. "This morning [the president] sent to the Senate a message withdrawing the Hawaiian treaty which was pending."

It was only a first step — but a large step in the right direction! Ka'iulani was ecstatic. She and the Davies could picture the panic among the P.G.s across town. They had arrived so certain that the Annexation Treaty could be rushed through!

The teenager's happiness was so contagious that it wasn't even dampened when Alice, her mouth agape, quoted another of that day's Washington papers. "Ka'iulani — did you know you and Koa are having a serious romance? This paper says you're ( royal lovers. That is, they were expected to be. And if the course of royal love had gone smoothly with other royal affairs in Hawai'i, the Prince was perfectly willing to … become the husband of the princess."'

Ka'iulani couldn't resist laughing as she pictured Koa's face when he read that story!

Mr. Davies found another similar story, in which Dr. Mott-Smith claimed that until recent events, Queen Lili'uokalani had planned on celebrating Ka'iulani and Koa's wedding as soon as Ka'iulani turned twentyone. Mott-Smith was quoted as saying, however, that if Ka'iulani "has her own way she will marry some young Englishman. It is said that the Princess regards herself as being better than the Prince and she will never consent to a union with a native Hawaiian."

This sobered Ka'iulani immediately. For while she didn't mind (at the moment) the slight aimed at Koa, it hurt her tremendously that anyone would suggest that she thought she was better than native Hawaiians — her own people!

Young as she was, Ka'iulani was getting an instant education in both the pleasures and the trials of public life.

But she and the Davies clung to the good news — the withdrawal of the treaty — and waited to see what would happen next.

---
Linnéa, Sharon. Princess Ka'iulani: Hope of a Nation, Heart of a People. Cambridge, U.K.: Wm. B. Eerdmans Publishing Co., 1999.

Mullins, Joseph G. Hawaiian Journey. Honolulu, Hawaii: Mutual Publishing Co., 1978.

Webb, Nancy and Jean Francis. Kaiulani: Crown Princess of Hawai'i. Honolulu, Hawaii: Mutual Publishing Co., 1962.
---